Interacting with a Tezos smart contract on Alphanet
In the previous tutorial we've deployed a smart contract to Alphanet, it's address at the time of the writing of the tutorial was KT1JfYDaNGwxVZB36SqeydVdBCVh6EVu93bP
Please note that the addresses and block explorer links are only valid until the next Alphanet restart
Quick look at our existing contract

Our contract doesn't do much more than storing the parameter that we send, in it's storage. You can see the deployed contract here. Our goal is to invoke the contract and replace it's storage value with the value 7 - which is an int in the eyes of the contract.
Addresses of the existing wallets / contracts

If you followed the previous tutorial, your Granary client already knows the addresses of our testing wallet alice and our contract int_storage. Let's take a quick look at how it looks like in our client:
granary client - list known contracts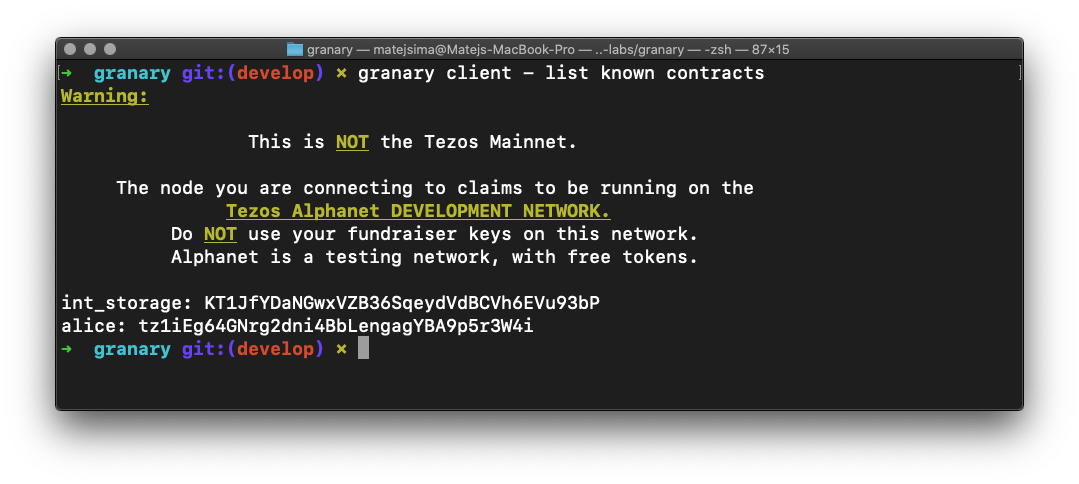 Listing existing contracts
If you haven't followed the previous tutorial, you can load the int_storage contract to your client with the following command, however you will need to obtain your own faucet wallet.
granary client - remember contract int_storage KT1JfYDaNGwxVZB36SqeydVdBCVh6EVu93bP

Wondering why you need a new faucet wallet? Well, if you haven't obtained one in the previous tutorial, you will need an on-chain identity to invoke the contract.
---
Invoking the contract

Contracts on Tezos are invoked by a transaction sent to their respective address, where the transaction may or may not include additional arguments. There are gas costs, burns and fees associated with invoking a contract which are paid by the wallet that signed the transaction.
Preparing a transaction

Easiest way to send a transaction with appropriate configuration (gas, burns and fees), is to run a dry-run simulation from the client. We want to transfer 0tz from alice to int_storage with an integer argument of 7.
granary client - transfer 0 from alice to int_storage --dry-run --arg 

'7'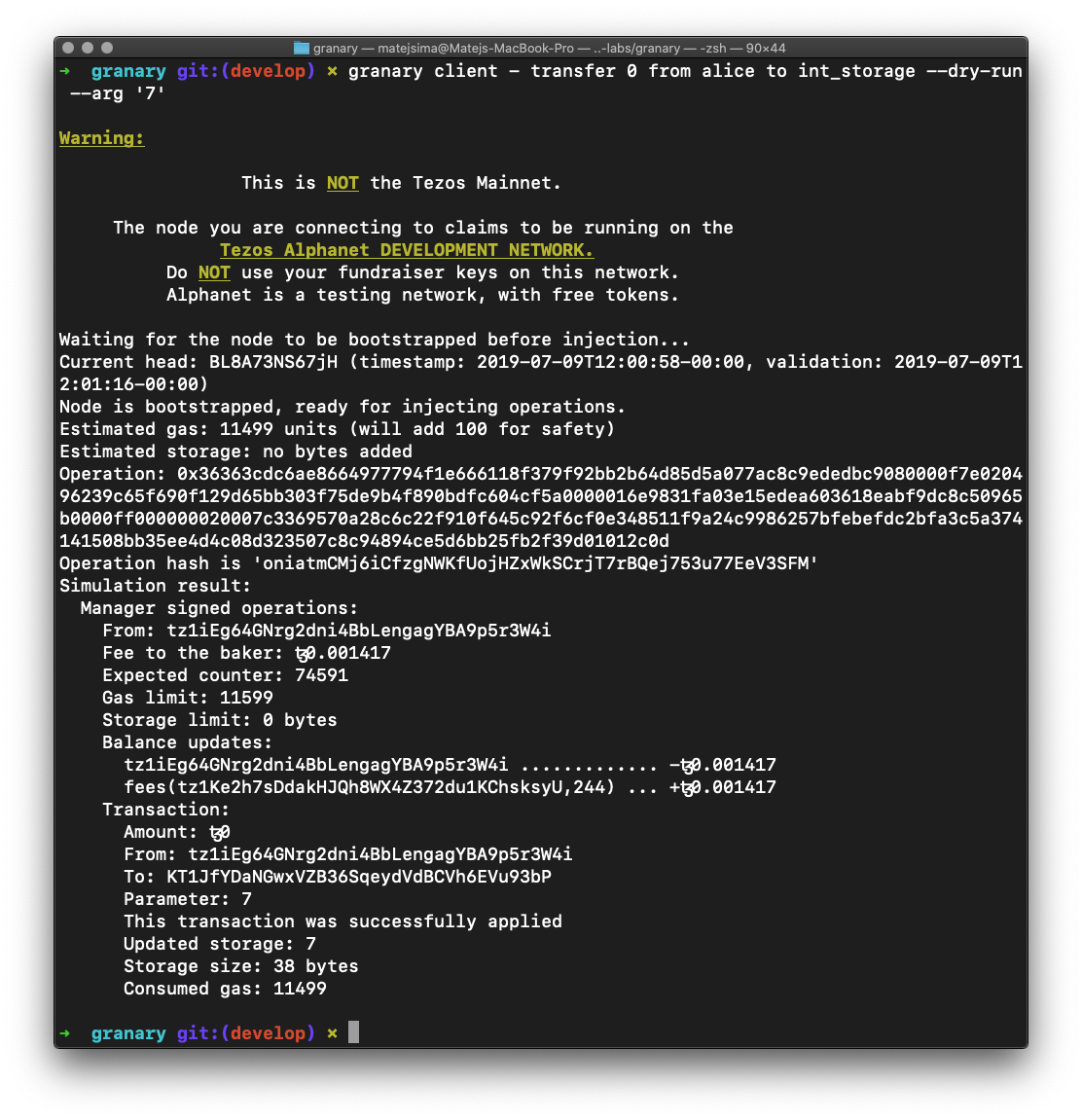 Dry running a transaction
Let's take a closer look at the dry-run output:
Fee to the baker: ꜩ0.001417
A minimal fee that's paid to the baker which includes our operation.
Gas limit: 11599
Gas consumed by each instruction of our contract's code, gas consumed increases the fee to the baker according to a predefined formula.
Balance updates
This section outlines which wallets will be affected by our operation, we can see that the fees are paid by alice (tz1...3W4i).
Parameter & Updated storage: 7
We've sent our transaction with the argument of 7, and our contract has update it's storage accordingly.
Sending a live Alphanet transaction

So far we've tried to dry-run our transaction and it went well, we're ready to inject it into the Alphanet. Let's run it again, this time without the --dry-run:
granary client - transfer 0 from alice to int_storage --arg 

'7'



Unfortunately, in my case the client reported the transaction as failed - or at least it's simulation. This gives us an opportunity to explore additional means of figuring out if the transaction/operation has been included or not.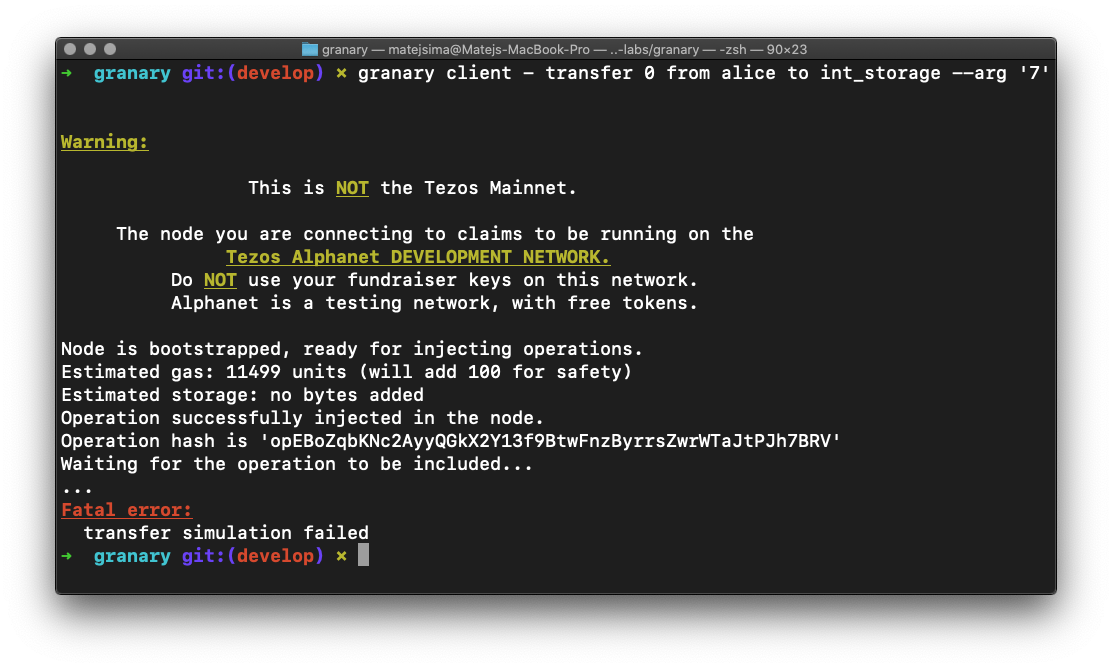 Failed transfer simulation
Looking up our operation on the block explorer
Please consider that this contract has no restraints on who can invoke it. The storage state might have changed since this tutorial was published.
We can see our operation included here.
Operation: opEBoZqbKNc2AyyQGkX2Y13f9BtwFnzByrrsZwrWTaJtPJh7BRV
Included in block: BMLp7BDT5BxN5UnkSiGgfH8etKQyh79ZL3reTZ1a1yzaCdo36g4
Fees paid: 1.417 mꜩ
To wrap things up, you can take a look at the contract's storage after the operation has been included: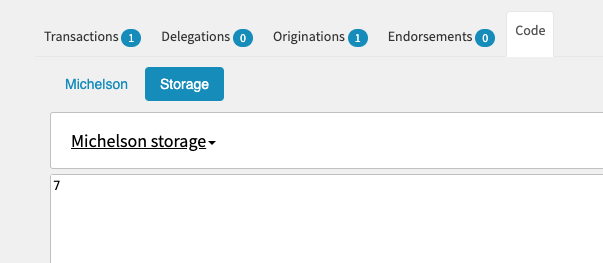 Updated storage after the transaction
That's it, you've successfully invoked a contract and updated it's storage!